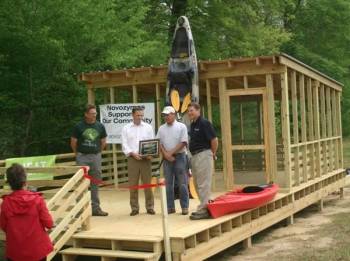 We're excited to have cut the ribbon on our newest camping platform, located near Vollmer Farms in Bunn and built with with $5,000 assistance from Novozymes, a Louisberg company. A ribbon cutting was held on April 28, 2014; click the photo to view a larger image, or visit the Facebook gallery to view all photos from the ribbon cutting.
This is the fifth camping platform erected and the first in Franklin County. The other platforms are located in Rocky Mount, and Pitt and Edgecombe counties. The platforms are accessible only by river, and feature wooden platforms and screened-in rooms for camping; our plans are to build a total of 15 platforms, about 10 to 15 miles apart.
We're excited that kayakers and canoeists will now be able to extend their overnight trips with the addition of the new camping platform. Visit our Reservations page to make reservations for this or any of the other platforms, for a night or for an extended trip.